On tonight's programme, Vesak is one of the most important Buddhist festivals. It is a celebration of Buddha's birthday and, for some followers, marks his enlightenment. We'll hear from Zen Buddhist Priest. Myozan Kodo (Ian Kilroy), about the Buddha and his philosophies.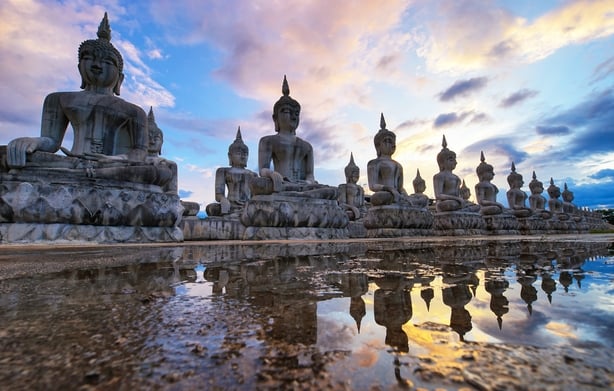 Buddha statues, Nakhon Si Thammarat Province, Thailand
Every May 1st on RTE Radio 1, the day is marked by the playing of Canon Sydney MacEwan's version of Bring Flowers of the Rarest. Ronan Collins, RTE Radio presenter and Dr David O'Shea, Sacred Music historian at Trinity College Dublin, discuss this intriguing hymn and some of those who are associated with it.
The Irish Chaplaincy in London provides help and support, through an outreach service, to three main groups: Irish elderly people, prisoners and Travellers. At this challenging time, during the COVID-19 pandemic, the Chaplaincy offers to assist anyone in Ireland with concerns about vulnerable older family members or friends isolated in London. We talk with Paul Raymond, Seniors Manager, about the work of the volunteers.
This is a free service and contact can be made to the Chaplaincy from Ireland by:
Post: PO BOX 75693 London NW1W 7ZT
Email: seniors@irishchaplaincy.org.uk
Phone: 0044 (0) 20 7482 3274
Email the Leap of Faith: faith@rte.ie
Listen Back here